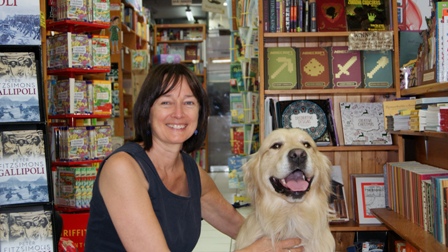 At Top Titles we love books. We also love talking about books, and we pride ourselves on our dedication to helping people find the right book at the right time, every time. We welcome browsers and our depth of knowledge means we offer great advice across our entire range. For these reasons we have many a loyal customer. Since opening, we have seen scores of young readers right through their schooling and well into their adult reading lives - recommending books for them at each stage along the way. Owners, Nicole and Jean-Eric Menard, have been serving Bayside Melbourne's reading community since 2001 and all our staff members are voracious and wide readers with an unquenchable enthusiasm for all things book-related.
Our Store is the very definition of a 'Treasure Trove'. We don't have a whole lot of space, but we pack in as many books as is physically possible, and then some. From beautiful classics and quirky gift books to home design, fashion and jewelry, our huge range of children's fiction and everything in-between. We carefully select our stock to reflect the diverse range of readers we see coming through our doors. At Top Titles, you are guaranteed to find something different.
˜

Top Titles Bookstore fronts onto Church Street and is nestled between the Palace Dendy Cinema and some of Bayside Melbourne's best cafes and restaurants. Combined, our businesses lend a very relaxed, holiday feel to our vibrant local shopping strip. We are a proud part of this wonderful community, and consider the Church Street shopping strip one of Melbourne's finest.

Infectious passion and knowledge aside, our services also include:
-A legendary range of beautiful hand-selected greeting cards and stationery.
-Gift Vouchers which do not expire.
-Complimentary gift wrapping.
-A great range of French language titles for all ages and abilities.
-Researching and ordering for special requirements.
-Late trading on weekends to cater for restaurant and cinema goers.
-Customer loyalty program - please come in and ask our staff for more information.
-Dog friendly book shopping – some of our favourite customers come in on four legs!